On December 15th, 2013, amidst the chaos during the gang takeover at the HPD, members of the notorious gang, The Red Queens, smashed Detective Skye Weaver's police vehicle into Gein Burger.
"I got a text from Pablo saying a car had hit the Gein, and when I got to the Gein I saw Danni, Kat, and River. They were all stumbling out of the wrecked car. The car had completely went through the left window, knocked some bricks down with it," Kirvi Caspian, the manager of Gein Burger, recounted.
No one was injured in the accident. "The three of them hobbled in the direction of the police station and left the car just smashed to hell in the side of the building," Caspian revealed.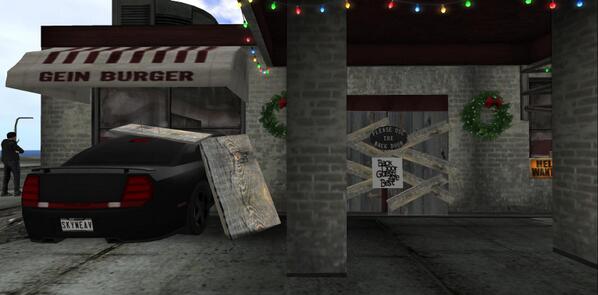 While there were no apparent injuries in the incident, there are damages that could cost "in the tens of thousands" according to Caspian. "Thank god for insurance," she added with a sigh of relief. The damages of Weaver's police vehicle is unknown at this time.
When asked if Gein Burger was still open, Caspian reassured the customers that the well-known burger joint was still open.
"The back door of the Gein is still open and we're still serving up people's favorite meals though. The damage should be cleared and remodeling will begin at the end of the week," Caspian reassures the customers.
Caspian even promises that, "the building will be more sturdy so it'll be safe for families and citizens alike to come back and enjoy the atmosphere."
Whether or not the incident was an accident or a purposeful act of chaos by the Red Queens is currently unknown.
Caspian revealed that she did not report it, nor does she plan to. She seemed more concerned about keeping the business going. And with the alleged war going on between gangs and the HPD; the citizens of Hathian need a sense of normalcy.